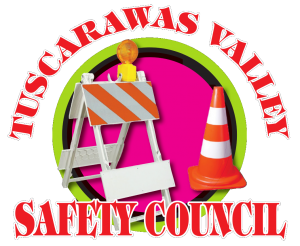 By joining the Tuscarawas County Chamber of Commerce, member employers also have the opportunity to join the Tuscarawas Valley Safety Council at no additional annual fee. The Tuscarawas Valley Safety Council provides employers the opportunity to attend safety education training on a monthly basis while also providing the opportunity to receive a BWC premium rebate* with successful completion of program requirements (see below).
The fiscal year for Safety Council requirements follows the State of Ohio's fiscal year: July 1 to June 30.
For more information on the Tuscarawas Valley Safety Council and becoming a member, contact Mike Mason, TVSC Manager, at 330-343-4474.
* The rebate offer excludes self-insuring employers and state agencies. Limitations apply to a professional employer organization and its clients. BWC encourages all Ohio employers, regardless of rebate eligibility, to become active safety council members.
Ohio Bureau of Workers' Compensation FY23 Safety Council premium rebate eligibility requirements:
 Join or confirm your existing, active membership in a local safety council by July 31, 2022
Attend 10 in-person safety council meetings between July 1, 2022 – June 30, 2023
* At least eight, or all 10, through attendance at local safety council sponsored monthly meetings, seminars, or special events. * You can earn external training credit for up to two meetings through attendance at BWC-sponsored in-person or virtual training courses or in-person safety training from other external sources (e.g., industry associations, third party administrators, etc.) It is the employer's responsibility to submit documentation to safety council by June 30, 2023 for attendance at non-safety council safety training to qualify. Documentation must be an official certificate of attendance or transcript.
A person can represent only one policy number with his or her attendance at a safety council meeting or external training event.
Safety council monthly meetings do not qualify for meeting credit for any employer not enrolled in that safety council.
No matter the duration of the training, seminar, or conference, only one external training credit is earned per event.
Safety training conducted at an employer's workplace does not qualify for safety council rebate program eligibility except BWC virtual training classes.
*The rebate offer excludes self-insuring employers and state agencies. Limitations apply to professional employer organization and its clients.